Positive Vibes
$94.99
Send thoughtful wishes and positive energy with this comforting bundle featuring a stylish terrazzo mug, organic tea and biscuits, handmade jam, and indoor-friendly bonsai grow kit.  An Ideal gesture for get well wishes, sympathy, or to brighten a friend or colleague's spirits. This uplifting assortment supports causes including youth entrepreneurship, sustainability initiatives, and women-owned businesses. [content] This gift arrives in our recyclable signature box and includes: Organic herbal tea blend of golden turmeric and ginger, 10 biodegradable sachets Lightly sweet tea biscuits with layers of toasted oats and hint of salt, 18 pcs. Organic small-batch, farm-fresh blueberry jam, 10 oz. Bonsai tree seed grow kit Ceramic mug with soft silicone sleeve in terrazzo cream; dishwasher & microwave safe, 12 oz. An artful booklet that showcases the stories behind our Impact Partners and the meaningful impact our gifts create [/content] [impact] Big Heart Tea - Produces organic, direct-trade tea using sustainable ingredients and plastic-free, non-toxic, compostable packaging; woman-ownedEffie's Homemade - Supports hunger relief efforts, food banks, and culinary arts programming in the greater Boston area; Certified Women-Owned Stonewall Kitchen - Producers of specialty foods with humble beginnings selling handmade jams at local farmers markets, LGBTQ+ Founded The Jonsteen Company - Grows native tree saplings and promotes youth education on trees and their importance in a healthy ecosystem; certified California small business, USA-madeW&P - Designs fresh ways to rethink the role of everyday objects in an effort to replace single-use plastics [/impact]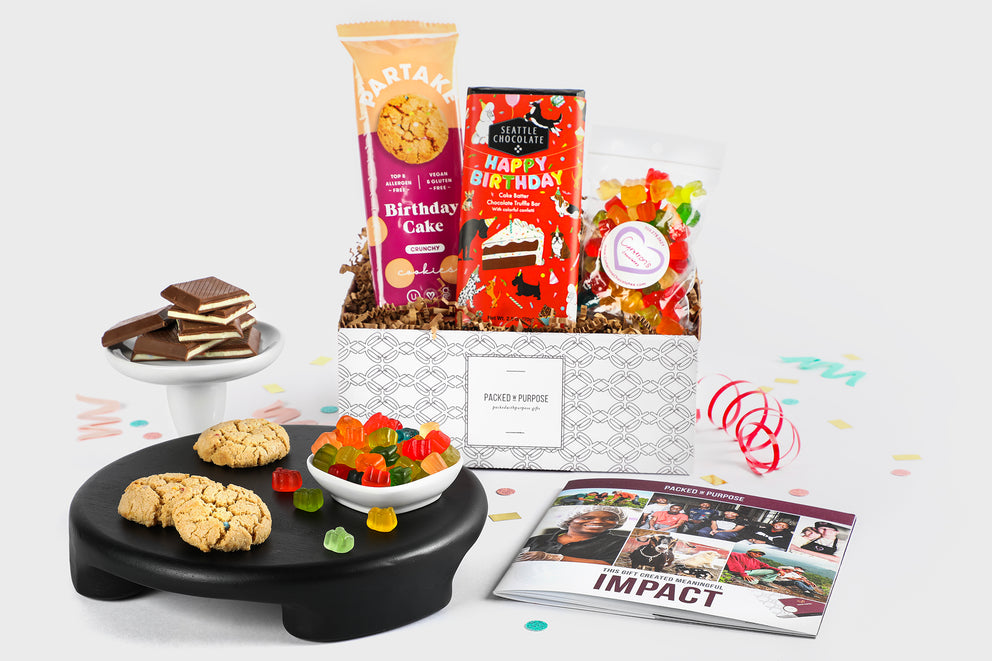 Happy Birthday to You!
$34.99
Bring the party to them with this fun-filled birthday-themed gift. Make them smile gummies, allergen-free confetti cookies, and Happy Birthday chocolate truffle bar are sure to make them feel special. Celebrate friends, family, clients and employees with this one-stop pop of fun while supporting the employment of individuals with intellectual disabilities, girls' empowerment, and food insecurity initiatives. [content] This gift arrives in our recyclable signature box and includes: Birthday cake batter chocolate truffle bar with confetti pieces, 2.5 oz. Juicy gummies with seasonal flavors, 2.5 oz. Crunchy, allergen-free birthday cake cookies, 1 oz. An artful booklet that showcases the stories behind our Impact Partners and the meaningful impact our gifts create [/content] [impact] Seattle Chocolate Company - Crafts artisan chocolate bars using ethically sourced, premium ingredients and donates 10% of profits to Girls, Inc, a nonprofit dedicated to empowering girls; Certified Women-Owned Cameron's Coffee and Chocolates - Empowers and employs young adults with intellectual disabilities through chocolate and confection production; a venture of the nonprofit Every1 Can Work Partake Foods - Produces Top 8 Allergen-free cookies made from wholesome ingredients; partners with the Food Equality Initiative to improve food access and education for families; Black- and woman-owned, Certified Minority-Owned, Certified B Corp
BIRTHDAY GIFT BASKETS
Celebrate their birthday with an artisanal gift box that's sure to delight.
From eco-friendly durables to scrumptious treats to wellness gifts that refresh and relax, you'll make their day feel extra special.